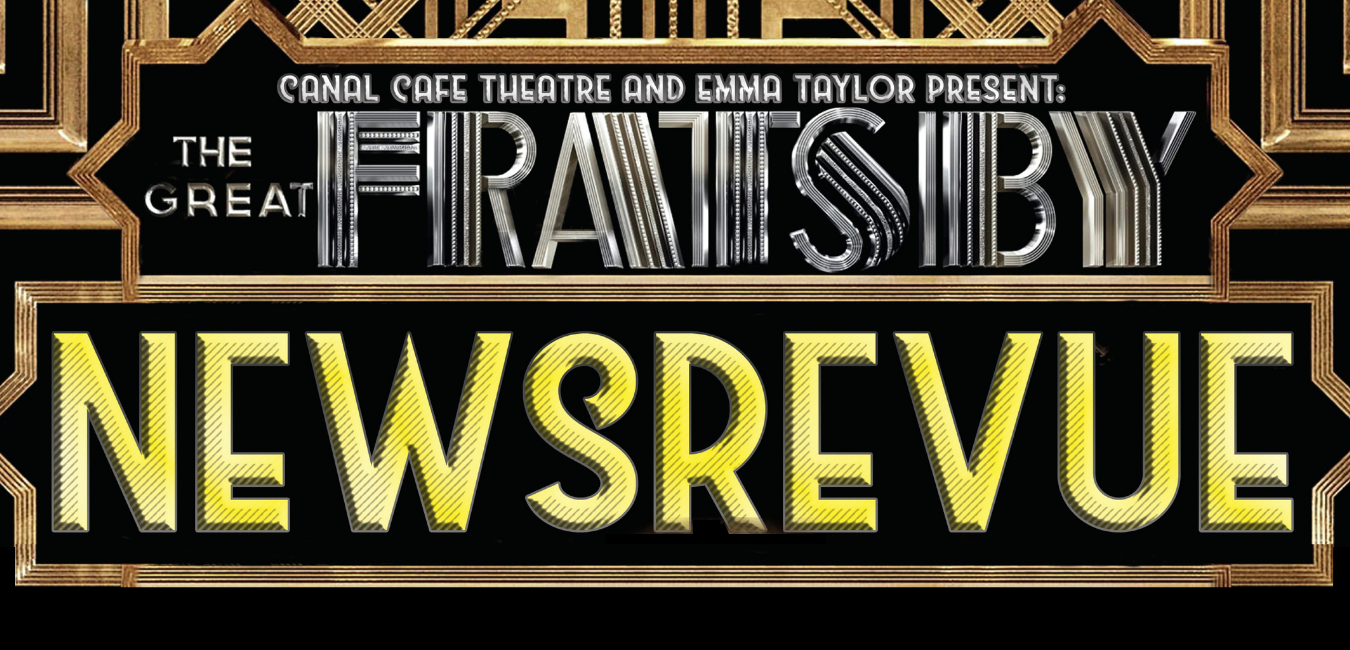 NEWSREVUE
The world's longest running live comedy show returns. 
In March 2020, for the first time in its 40-year run, NewsRevue was forced to close. The team innovated and went online with the NewsRevue Podcast. We are now delighted to announce that NewsRevue will return to the stage where it belongs, not a moment too soon to give its inimitable commentary on these extraordinary times.
This current affairs parody song and sketch show is acknowledged as a "rite of passage for all comedy newcomers" (Chortle). Alumni include The League of Gentlemen, Sarah Pascoe, Bill Bailey, Saskia Reeves and Michelle Collins. The cast members, described as having "Herculean levels of talent" (WhatsOnStage.com), together with an on-stage musical director receive 5-star reviews at Edinburgh Fringe Festival every year.
Masochistically popular amongst politicians, you may see an MP in the audience! A fast-moving mix of sketches and songs, NewsRevue propels you through the world's news and current events at breakneck pace — all-kicking, idol-burning comedy, with brand new content injected into the show weekly by a crack team of writers and cast alike.
Current NewsRevue Team
Director: Micha Mirto
Musical Director: Fergus Carver
Cast: Alex Blackie, Lani Calvert, George Hider, and Helen Cunningham
---
Running time: Approx 60 minutes
Ages Guidance: Ages 14 and above
---
Praise for NewsRevue at the Edinburgh Fringe 2022
"Satirically brilliant" 
⭐️⭐️⭐️⭐️⭐️ The Guardian
"Preposterously talented"
⭐️⭐️⭐️⭐️⭐️ Broadway Baby
"Utterly magnificent from start to finish"
⭐️⭐️⭐️⭐️⭐️ LondonTheatre1
Praise for NewsRevue at the Edinburgh Fringe 2021
"Not even a pandemic could knock NewsRevue off its perch as the standard bearer for musical sketch show comedy."
Fringe Review
Praise for NewsRevue at the Underbelly at Edinburgh Festival Fringe 2019 
"The Brexorcist will leave a fiendishly funny glint in your eye, accompanied with laughter-muscle strain in your belly. Catch NewsRevue now before they exit the stratosphere."
⭐️⭐️⭐️⭐️⭐️ Broadway Baby 
"The audience were all howling with laughter."
⭐️⭐️⭐️⭐️⭐️ North West End 
"A breakneck take-down of news and current affairs  – this four-person ensemble is an impressive mix of satire, music and comedy."
⭐️⭐️⭐️⭐️⭐️ On The Beat
"Something to laugh about in these days of the The Brexoricist"
 ⭐️⭐️⭐️⭐️⭐️  London Pub Theatres