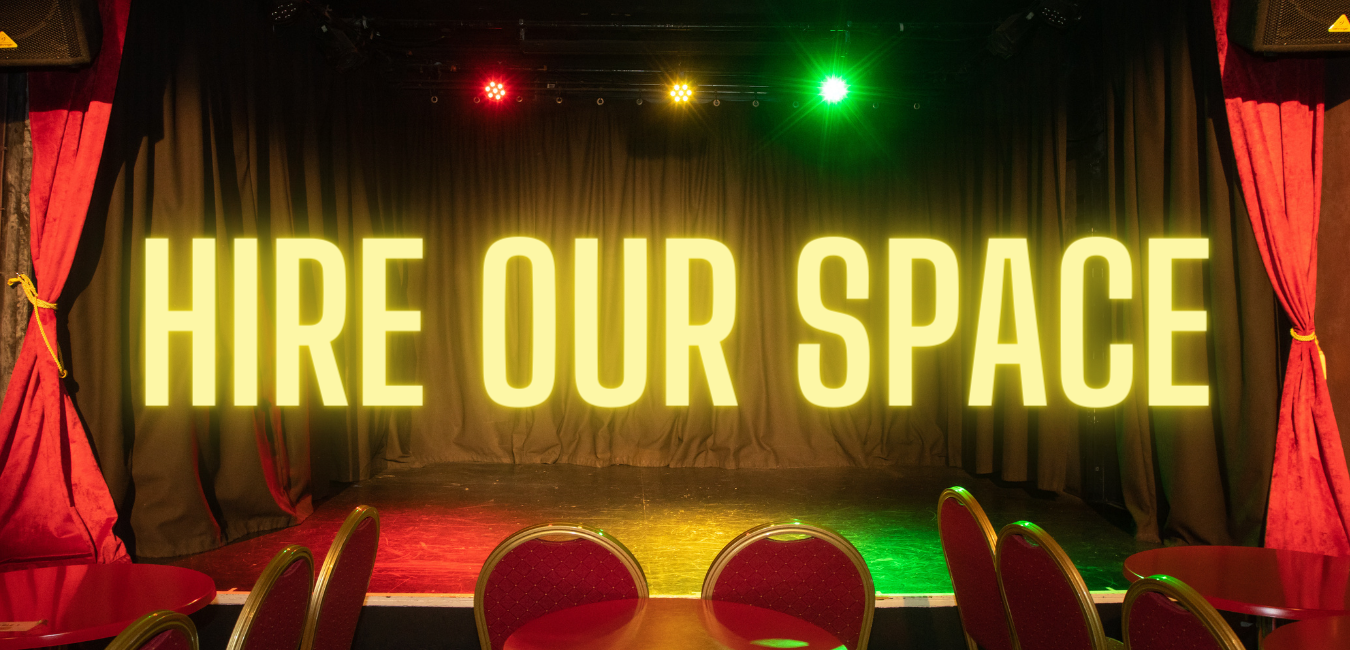 Our 60-seat theatre is ideal for performances ranging from comedy, one-person shows, stand-up, cabaret, small scale musicals, revivals, and new writing. The seating is arranged by tables, from two seats to six and there is a raised stage in a proscenium arch layout.
We take bookings for one off shows, 3/4 day runs or a regular weekly/monthly residency. We programme 50 minutes to one hour length shows but shows with a longer duration can be accommodated if they suit our space.
We offer a 60/40 box office split in company favour against a guarantee of £140 per performance (i.e., we will take either 40% of ticket sales or £140 per show whichever is greater) plus a £60 staffing fee (per performance per hour). Our £60 staffing covers a technician, box office, FOH (front of house staff) and access to the theatre one hour prior to curtain up. If your show runs over 1 hour, the staffing fee will be increased accordingly i.e.,90mins (£90 staffing fee), 2 hours (£120 staffing fee).
A holding deposit of £60 (first staffing fee) is due when signing the contract which confirms your hire of the theatre.
Your booking would include:
A 1hr performance slot, which includes use of the theatre for your show with the technical equipment as per next page. Please note if you wish to use the piano or projector that there is an additional £15 charge per performance for each.
Your get in time 1hr before is included. The stage space and auditorium must be clear by 15mins after curtain down.
Our technician will be available to tech your show and will be available during your get- in time. There will also be a box office staff member available at every performance.
Ticket sales managed through our website, box office line and email.
Inclusion in our bi-weekly newsletter to our mailing list (approx. 6K subscribers).
We will also promote through our social media (Facebook, Twitter, etc.) and send out your press release (if provided) to our up-to-date contacts.
We will display your posters and/or flyers in our foyer and stairwell space at the theatre. Please note, we do not have the facility to print your posters or flyers.
The theatre is available for extra rehearsal time Monday – Sunday from 12pm-10pm and is subject to availability (apart from 12 to 6pm Tuesdays to Thursdays); booking in advance is required.
Any additional hours requested in the space shall be charged at £10 per hour for rehearsal without technical requirements and £20 per hour for rehearsals with technical requirements, regardless of whether The Company bring their own technician or not.