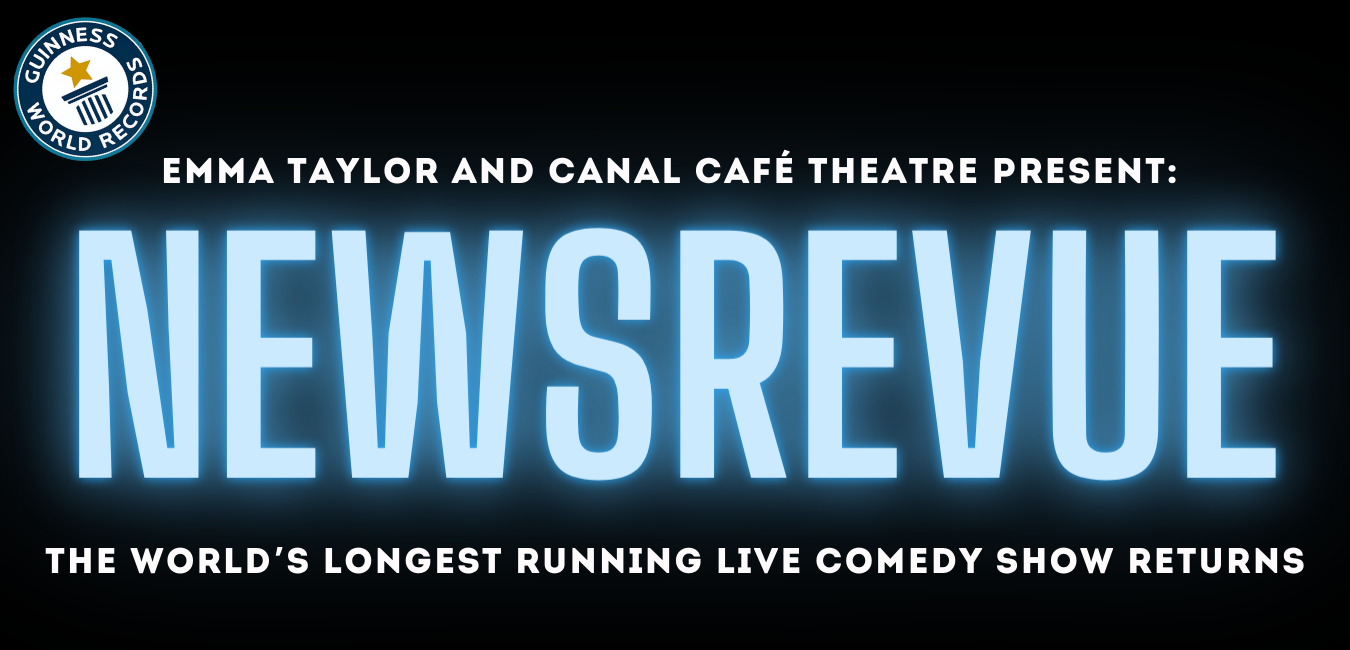 NEWSREVUE MERCH
Fancy a poster of the world's longest running live comedy show?
NewsRevue holds the Guinness World Record for the longest running comedy sketch show. Kicking off it's 43 year life at the Canal Cafe Theatre in 1979, you can still find the show here today! This current affairs parody song and sketch show is acknowledged as a "rite of passage for all comedy newcomers" (Chortle).
Alumni include The League of Gentlemen, Sarah Pascoe, Bill Bailey, Saskia Reeves and Michelle Collins. The cast members, described as having "Herculean levels of talent" (WhatsOnStage.com), together with an on-stage musical director receive 5-star reviews at Edinburgh Fringe Festival every year.
With a new design every year, you can now start a collection of fun memorabilia for the show. Perhaps gift it to avid fan friends or hang up in your bathroom? It's totally up to you!
Once purchased, please email mail@canalcafetheatre.com with a name and postal address.
Posters available in both A4 and A3 sizes.
All P&P included for both UK/EU. Dispatch/arrival times may vary.
Praise for NewsRevue at the Edinburgh Fringe 2021
"Not even a pandemic could knock NewsRevue off its perch as the standard bearer for musical sketch show comedy."
Fringe Review
Praise for NewsRevue at the Underbelly at Edinburgh Festival Fringe 2019 
"The Brexorcist will leave a fiendishly funny glint in your eye, accompanied with laughter-muscle strain in your belly. Catch NewsRevue now before they exit the stratosphere."
⭐️⭐️⭐️⭐️⭐️ Broadway Baby 
"The audience were all howling with laughter."
⭐️⭐️⭐️⭐️⭐️ North West End 
"A breakneck take-down of news and current affairs  – this four-person ensemble is an impressive mix of satire, music and comedy."
⭐️⭐️⭐️⭐️⭐️ On The Beat
"Something to laugh about in these days of the The Brexoricist"
 ⭐️⭐️⭐️⭐️⭐️  London Pub Theatres