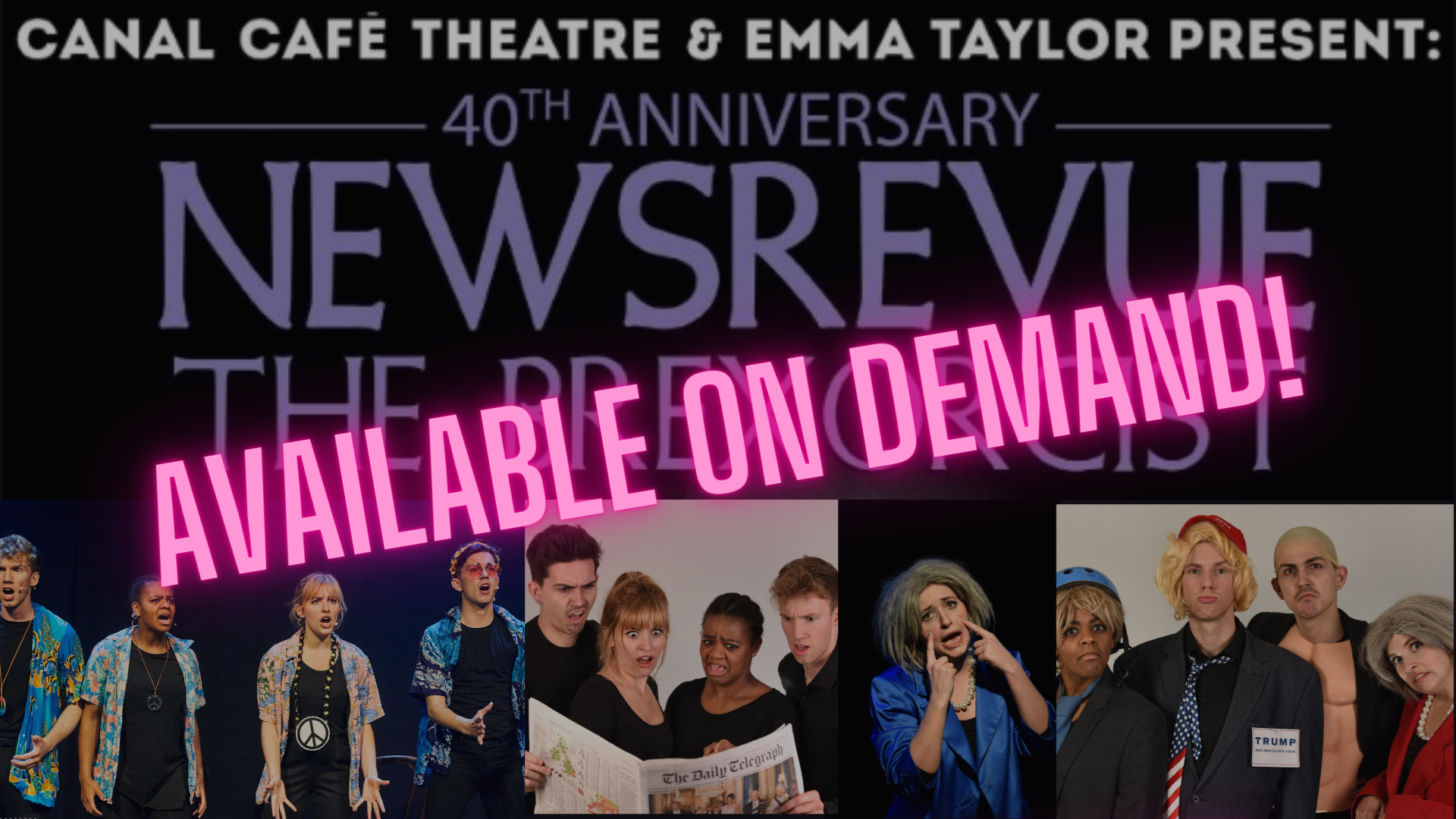 NEWSREVUE: THE 40th ANNIVERSARY SHOW
The world's longest running live comedy show… available on demand!
A fast-moving mix of sketches and songs, NewsRevue propels you through the world's news and current events at breakneck pace — all-kicking, idol-burning comedy!
This recording is of our 2019 Edinburgh Fringe Festival show; NewsRevue: The Brexorcist. 
Starring Maya-Nika Bewley, Althea Burey, Christian James & Brett Sinclair
Direction by Samuel Hopkins
Musical Direction by Andrew Linnie
We are offering this recording as part of our Emergency Survival Campaign to support our theatre through the challenging months ahead. All tickets will be considered as a donation to the Canal Cafe Theatre and the creators of NewsRevue in order to aid a viable and exciting return and future life.
It's available to all with the option of selecting how much you would like to pay. No matter how much you pay, you will receive the same video as everyone else. We simply trust that people are honest and will support the performers and creators of this show with whatever they can afford.
During these unprecedented times, we appreciate any and all support for NewsRevue to sustain its momentum and to support our writers, creatives and performers until it is safe to return to the stage.
After purchase, you will receive a email containing the link to this recording. If you do not receive this email, check your spam folder and then if necessary, please contact our team on mail@canalcafetheare.com 
If you would like offer further support to the future life of  NewsRevue, please visit our donations and/or gift voucher pages to see how to do so.
This recording is available under a Limited Online Music Licence granted to the Canal Cafe Theatre by PRS/PPL.
Praise for NewsRevue: The Brexorcist at the Underbelly at Edinburgh Festival Fringe 2019 
"The Brexorcist will leave a fiendishly funny glint in your eye, accompanied with laughter-muscle strain in your belly. Catch NewsRevue now before they exit the stratosphere."
⭐️⭐️⭐️⭐️⭐️ Broadway Baby 
"The audience were all howling with laughter."
⭐️⭐️⭐️⭐️⭐️ North West End 
"A breakneck take-down of news and current affairs  – this four-person ensemble is an impressive mix of satire, music and comedy."
⭐️⭐️⭐️⭐️⭐️ On The Beat